Beauty and Belonging at Athlone Fashion Trail
Last Saturday I attended the Athlone Fashion Trail in association with Colm Quinn Athlone - Galway, Goldenegg Productions and Galway Now. This event promised to be "a truly unique exploration into fashion" and as a blogger attending the event, I was certainly not dissapointed with the day we were treated to!
Earlier this year I had attended the Galway Fashion Trail which was one of the highlights of my blogging life!! I have to admit though I did have some self esteem and confidence issues to deal with and feelings around "not fitting in". But what a difference a few months make to a girl's self confidence!
It was only my "story" that was keeping me stuck and that day made me realise that it is ok for a Mum, who now spends most of my time in wet gear and hiking boots at the side of hurling and football matches, doing adventures with beaver scouts or over night camps with scouts to ditch the hiking boots and dress up and truly immerse myself in the beauty that is all around me!
I have my Colm Quinn key ring chain as my mobile vision board since the Galway event, which did raise an eye brow or two as I brought my non BMW car in for a recall recently to the dealers :-) A Mum can dream of a beautiful maroon 7 seater with leather seats and all mod cons! If we can't dream it then we can't have it!
The Athlone Fashion Trail kicked off surrounded by beautiful cars and delicious breakfast at the Colm Quinn Dealership in Athlone. My 7 seater was there and I went over and re-affirmed that yes some day my dream will come true and I will have my two boys, (hurling boots off though) in the back seat .. watch this space world!
After our BMW convoy of cars dropped us at our first venue we were treated with bubbles and beauty at Kadee Bride. Next stop was Burgess for a wonderful fashion show in a wonderful Athlone establishment. Olivia Danielle kept the style stakes flying with a super fashion show including those jeans that have left many a poor lad with a gaping jaw!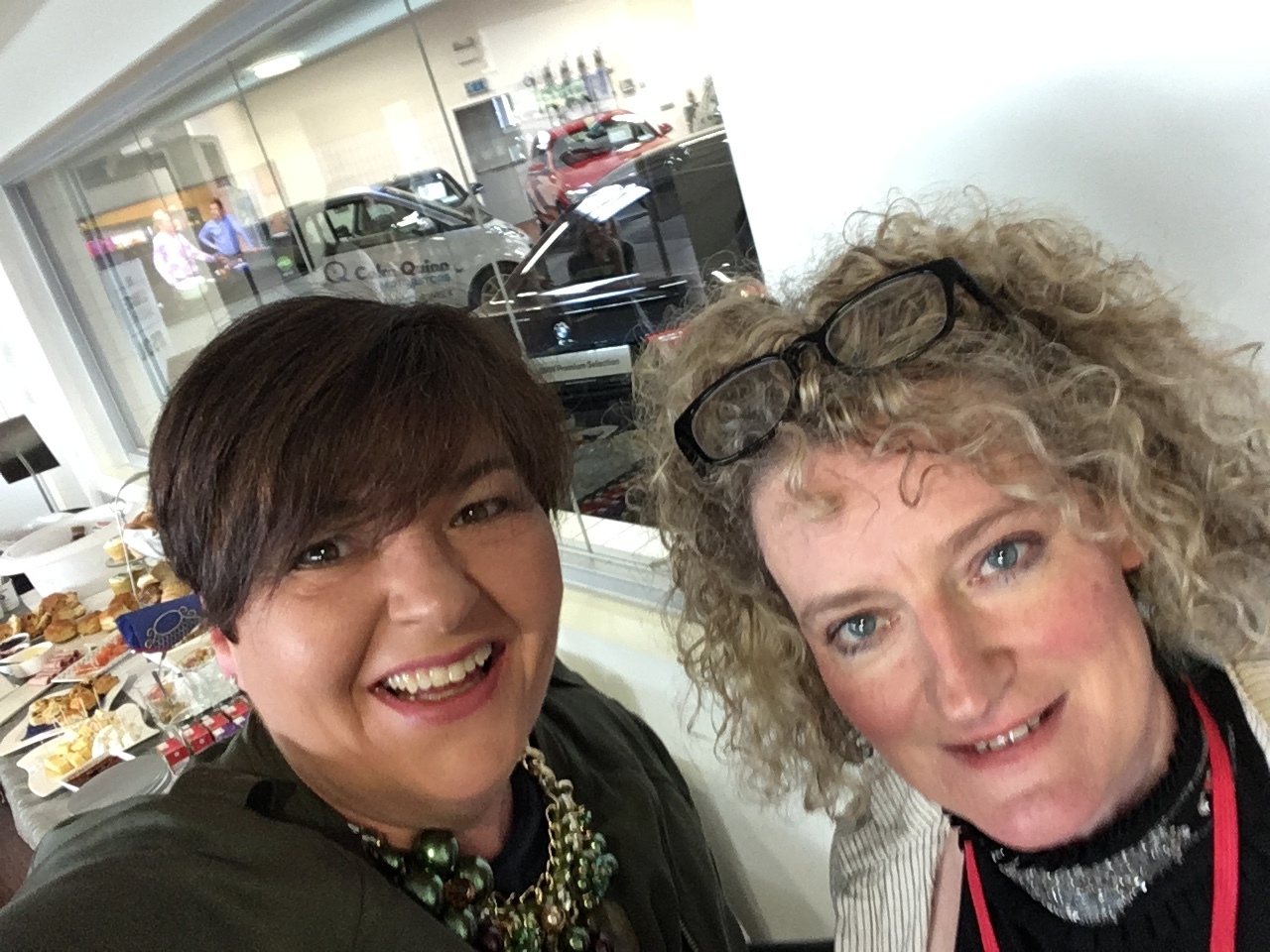 After our first fashion show by Athlone Town Centre which included fashion from the shops in the Centre, we were treated to a delicious lunch courtesy of the Fatted Calf. The menu was divine and I followed it with a healthy green juice from the Jump Juice Bar in the Centre.
After our second Athlone Town Centre delightful fashion show it was off to Clodagh's Boutique for some more elegant styles and run way delights.
Nell's Closet is a hidden gem when it comes to fashion. There are so many different types of fashion accessories in the shop it left me with no choice but to have to come back to all of these wonderful boutiques for further inspection!
Our next stop was back to Burgess again for the last fashion show of the day. Another wonderful display from the various brands this shop has to offer.
Wrap up party was in the Raddission Blu and a chance to take off the shoes and relax watching the All Ireland Football Final while sipping a cocktail and being fed again!
Thanks to all the boutiques for their wonderful gifts and goodie bags and to everyone who made this day possible. Of course thanks to the girls at ITWBN for their invitation to join the event as a blogger.
My story around fitting in with beauty has been forever changed because of my experiences at these wonderful events. We can change our mindset when we look closely and ask the questions that help us break through our own self made inner glass ceiling that can keep us stuck in a story and stop us bringing joy and beauty into our lives. When we do this we open the way to receive more and more of it!
Until the next one .. keep on dreaming.
Dolores Andrew-Gavin, Owner of IrishHealthHour, Author, Energy Therapist and Empowerment Coach.